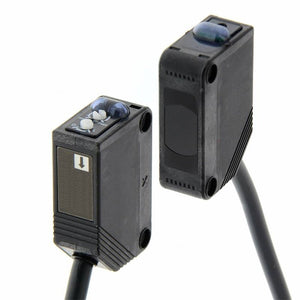 The Wintriss Store
Long Range Through Beam Photoelectric Sensor
2318303
Regular price
$225.00
$0.00
Unit price
per
The lubricants present in stamping dies create problems for photosensors.  Droplets of lube can deflect sensing beams, and the film of dirty oil that forms on almost everything can affect sensors to the point where they will no longer operate.
There are two important criteria when selecting photoelectric sensors for in-die use:
Use a sensor with an infrared beam that will shine through (rather than be deflected by) droplets of oil.
Use a through beam photoelectric sensor with enough power to overcome a dirty environment.  In other words, select a sensor with more range than you need.
This through beam photoelectric sensor covers both.  It features an infrared light source and an astounding 30 meter range that will enable it to operate in the dirtiest environments.
Specifications
Maximum sensing distance
30 m
Standard sensing object
Opaque: 12-mm dia. min.
Directional angle
Both emitter and receiver: 3 to 15°
Light source (wavelength)
Infrared LED (870 nm)
Current consumption
35 mA max. (Emitter: 15 mA max., Receiv- er: 20 mA max.)
Reversed power polarity protection
Yes
Output short circuit protection
Yes
Reversed output polarity protection
Yes
Response time
Operate or reset: 2 ms max.
Power supply voltage
12 to 24 VDC +/-10%, ripple (p-p): 10% max.
Control output
24 VDC, 100 mA max.
Output Type
NPN Open collector
Output Mode
Light-ON/Dark-ON selectable
Residual voltage
1V max.
Sensitivity adjustment
One-turn adjuster
Ambient illumination (Rcvr side)
Incandescent lamp: 3,000 lx max. Sunlight: 10,000 lx max.
Ambient temperature range
Operating: -25 to 55°C, Storage: -40 to 70°C (with no icing or condensation)
Ambient humidity range
Operating: 35% to 85%, Storage: 35% to 95% (with no condensation)
Insulation resistance
20 MΩ min. at 500 VDC
Dielectric strength
1,000 VAC, 50/60 Hz for 1 min
Vibration resistance
Destruction: 10 to 55 Hz, 1.5 mm double amplitude for 2 hours each in X, Y, and Z directions
Shock resistance
Destruction: 500 m/s/s 3 times each in X, Y, and Z directions
Indicators
Operation (orange), Stability (green). Emitter has power indicator (orange) only.
Degree of protection
IEC IP67
Connection method
Pre-wired cable, length: 2 m)
Weight (packed)
Approx. 120 g
Case
PBT (polybutylene terephthalate)
Lens
Modified polyarylate
This through beam photoelectric sensor is compatible with the following connection hardware:
You can also use the standard sensor connector to connect to the front panel of the Wintriss DSI 2.
These sensors can be used with the following Wintriss Controllers:
This sensor may also be compatible with some legacy Wintriss products.  Contact the factory for details.
---
Share this Product
---