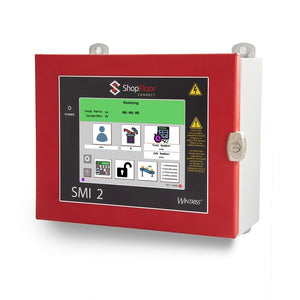 The Wintriss Store
SMI 2 - ShopFloorConnect Machine Interface
9686701
Regular price
$2,330.00
$0.00
Unit price
per
The ShopFloorConnect Machine Interface (SMI 2) is the fastest way to connect virtually any machine to the ShopFloorConnect Machine Monitoring Software. The SMI 2 is network-ready and factory configured to drop right in to your existing ShopFloorConnect installation and begin collecting data.
The SMI 2 is a vital part of the ShopFloorConnect Machine Monitoring System. With just a few simple connections, the SMI 2 automatically tracks uptime and production count data from any machine, and provides it to ShopFloorConnect. In the "Related Products" section below, we've included some sensors and accessories that can facilitate getting the required signals from various machines.
The SMI 2 machine monitoring interface features a user configurable machine-specific downtime reason list so that operators can indicate the reason for each significant machine stoppage.
Job and operator information can be entered into the SMI 2 using the on-screen keypad or by a bar code or other scanner connected to one of the SMI 2's on-board USB ports. Job tracking enables ShopFloorConnect to apply ideal production rates specific to a part or process, which makes OEE calculations more accurate.
The SMI 2 machine monitoring interface features a downtime selection menu that takes full advantage of the touch-screen interface to streamline operator input. The SMI 2 also has an additional "Setup" input that allows ShopFloorConnect to appropriately log any time spent doing troubleshooting and setup even if the machine is cycled.
Features:
Quickly connects any machine to ShopFloorConnect
User-friendly 6.5" color touch screen interface
Available in 2 versions: enclosure or panel-mount
Significantly lower cost than comparable devices
Ethernet Ready, simply plug it in to your existing network
32 downtime codes that are fully customizable – both the reasons themselves, and the menu order in which they appear
"Forced Dialog" mode can inhibit machine restart until a downtime reason has been sent to ShopFloorConnect
7-Digit parts counter with preset
Ability to enter Operator number, Job number, and an identifier for each job.
Specifications:
INPUT POWER:
90-264VAC 50-60 Hz, 1A
24 VDC version is also available as an option
INPUTS:
*Input for cycle/parts count
*Input for machine running/stopped signal
*Input for scrap count (optional)
*Input for setup mode (optional) This mode allows the machine to be cycled during setup and troubleshooting while maintaining the current downtime reason and without incrementing the parts count
*Four inputs to automatically set the downtime to predefined reasons (optional)
Two on-board USB inputs for bar code or other scanners.
* These inputs can be configured - as a group - to either PNP (24V "on") or NPN (0V "On"). The factory default is PNP.
OUTPUTS
Inhibit circuit – Dry Contact - 30VDC, 240VAC, 4 Amp max. Used to inhibit machine restart until a downtime code is selected, and optionally to stop the machine when the part counter preset is reached
The SMI-2 machine monitoring interface is available in an enclosure for stand-alone mounting, or as a panel-mount for flush mounting into an existing control cabinet.    Both mounting versions are available in 110 VAC or 24VDC input power.
---
Share this Product
---